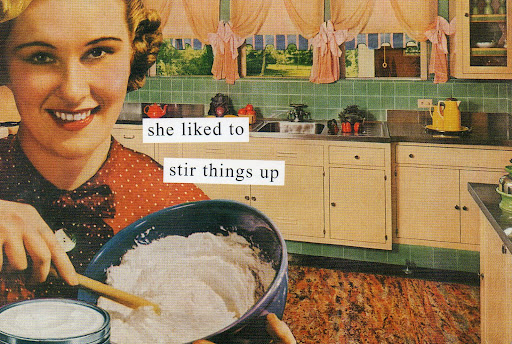 Anne Taintor pic from https://picasaweb.google.com/lh/photo/TM3AtU37bbuFc_M8VBlCVA
When is the last time you "stirred things up?"  I'm not talking pancake batter I'm talking your "routine."  Routine Routine Routine.  I get it.  Structure is important on the pathway to success and achieving goals, dreams, balancing your check book.  When you get too comfortable?  Stir things up!  Remember…life BEGINS at the end of your comfort zone.  So get a little uncomfortable.  In positive and fun ways.
Try something…anything new!  Love red wine?  Me too.  Change it up for a Scorpion Bowl, Pineapple

Passion

or something you have never tried once in a while.

You know that "Things I Would Never Do List?"  Re-read it.  Have you done anything on it?  Do things on that list seem a little less…"no way I'd ever do that?"

Listen to different music, take a different route home than you normally would, explore web sites you would never think of going to.

Make a list of daily and weekend adventures you want to try.  Then schedule them.

If you are like me and find it impossible to just sit and do nothing…try it.  Breathe and see how it feels.

Scour the local papers for new things to do this weekend.  New restaurants, festivals, stores, spas, museums and put these things into your schedule.

Be grateful, say thank you to someone you love, make something yummy for a sick person.

Never done a crossword or sudoku?  Try.

Accept ALL really fun sounding invitations!  Don't think about it and wonder if it will fit in your schedule.  Just accept.  I just accepted a photo shoot opportunity from a friend.  A fun glamour girl pin-up style one!
Please…share your hot and sassy ideas here and on our Facebook page!  https://www.facebook.com/pages/Bitch-Lifestyle/205875411841
Love, Goddess
© S Stevens Life Strategies